SEO, the industry buzzword, is a crucial digital marketing strategy that allows businesses to enhance their brand credibility and bolster their reputation in the competitive online marketplace. It is no secret that SEO metrics is dynamic and complex in unison. 
However, to create a solid SEO strategy investing time, money and effort is more important than ever. This way, you can unlock success, in short, skyrocket rankings, and drive organic traffic to your website.   
But how do you gauge if your current SEO tactics are powerful? Which ones are working in your favor, and which are not? To cut through the noise, here is where the SEO metrics come in!   
In this article, we will pinpoint the most efficient SEO metrics that will allow you to fix the flaws faster and keep your business growing in 2023.   
What are SEO Metrics?
SEO metrics, also termed SEO KPIs (key performance indicators) are the key factors that help to measure your SEO strategy success. In a nutshell, your website is tested from an SEO point of view. This includes keeping track of the keyword rankings, organic traffic, engagement rate, conversion rate and more.   
Most importantly, SEO metrics play a very significant role in refining marketing campaigns to steer them toward achieving business goals.   
Why do SEO Metrics Matter?
Metrics provides actionable insights, helping you to improve your website's ranking.  

 

Frequent tracking allows you to analyze your SEO efforts and refine strategies as required.  

 

Metrics allows you to do competitor analysis, thereby helping you stay ahead of the curve.

Monitoring metrics ensures better search engine visibility and increases organic traffic. 

 
Most Essential SEO Metrics Every Marketer Should Track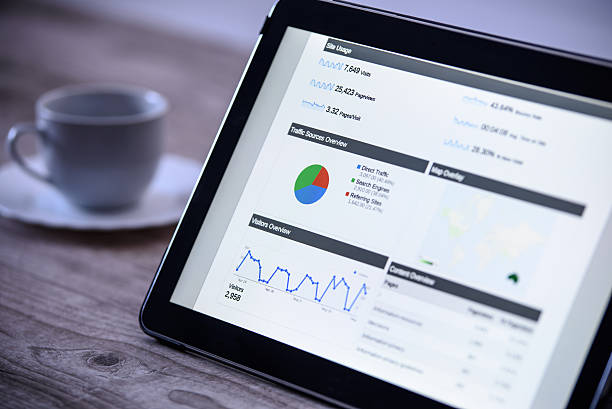 Now that we know what SEO metrics are, let's take a look at the essential and proven SEO metrics that are best for B2B marketers to measure your brand's SEO success.  
Engagement Rate:   
This is the amount of time users spend on your site. Tracking engagement rate gives closer insights into which web pages are performing well, whether it's in terms of speed, content, on-page optimization, or something that's lowering the engagement rate.   
High-quality and engaging content also stands as a foundation for enhancing the engagement rate. Besides, having a user-friendly site is also crucial, as visitors stay for a longer time if they find it easy to navigate and meet their desired requirements hassle-free.   
Organic Traffic:  
One of the SEO metrics that would always take the top position is organic traffic. It refers to the number of visitors that come to your website without running any paid advertisement. This is mainly through search engines, like Google, Bing and social media platforms including, Instagram, Facebook, etc.   
Keeping track of organic traffic is a fundamental part of an effective digital marketing strategy. Based on research stats, 53% of total website traffic comes through organic search results.   
Keyword Rankings:  
The significant motto of SEO is ranking higher in SERPs, driving traffic and improving conversion rates. Keyword rankings are an important metric to track in an SEO campaign. It indicates your visibility online for a particular search term. If you rank higher for a keyword, your site is more visible, and likely to have more conversions.   
Make sure to focus on keywords that go with your business niche and track its rankings frequently to ensure you are targeting the right keywords. Some of the best tools to track rankings are Ahrefs or Semrush.   
Conversion Rates:  
Conversion rates refer to the percentage of visitors who have shown interest in your product or services by filling out a contact form, making a purchase, requesting a free trial and more. Conversion rates are the pivotal SEO metrics, as they deliver insights into whether your content is meeting the customer's requirements to the fullest.   
Bounce Rate:   
Bounce rate is termed as the percentage of visitors who leave your website after visiting a page. A high bounce rate is a bad indicator as it depicts your site is not performing well, meaning it isn't engaging or found interesting for visitors.  
On the other hand, a lower bounce rate means visitors are acting on your site and browsing through multiple pages. Tracking bounce rate is vital and can help you to make improvisations likewise.   
Page Speed:  
The faster the speed, the better the SEO rankings. Page speed matters a lot in SEO optimization. Speed indirectly influences the overall rankings of the site by increasing bounce rates and page load times.  
Users leave a site that loads slowly and will switch to another place to get the information they need. Thus, performing page speed tests is crucial with tools like GTMetrics that test and monitor your website page performance.   
Backlinks: 
The game-changers in SEO. Backlinks refer to links from other high-authority sites that point to your website. They play a crucial role in improving your site's visibility in SERPs, making it an essential SEO KPI metric to track. The higher the number of backlinks, the higher the page rankings. Relevance and quality should be maintained when it comes to backlinking in the SEO landscape.   
Over to You
Tracking the right SEO metrics or KPIs is vital to measure your SEO efforts in 2023. SEO is not just a one-day game. Rock-steady efforts for long-term business success.   
The metrics mentioned in the blog will help to pave the way towards making informed decisions and take your brand identity to new heights of success.  
Read More: