CAT tools are Computer-aided translation tools.
They assist a human translator in the translation process.
CAT tools within their memory store many translated databases so that they are further reused in the future.
Segmentation of the target text is done and presented in a convenient way to make translation easy.
Translations of such segments are often stored with their source file text as a translation unit so that a user can any time return to such segments for checking the translation.
Let us discuss some of the CAT tools in detail.
11 Best CAT Tools List
SDL Trados is a CAT tool, that is available for users in two editions.
• SDL Trados Studio Freelance
This tool has been developed keeping in view the requirements of freelancers wherein they can translate and review their works.
• SDL Trados Studio Professional

This tool has been added to SDS Trados to assist companies with their daily functionalities.
Herein, companies are provided with unlimited languages options, managing translation projects, and assisting them in running a studio from any network.
Key Features:

• Faster Project Delivery
Features like saving past translation, predictive techniques, and auto-correct help users finish and deliver projects much faster.
• Wider Range Work
Receive your projects from a broader range of client bases as the tool allows you to translate from the majority of languages and file types. Moreover, connect with this tool on the move.
• Better Connectivity
Other features of SDL, like SDL MultiTerm, will assist users with inconsistency in terminology. Moreover, its quality assurance checks will also help users with consistency in translations.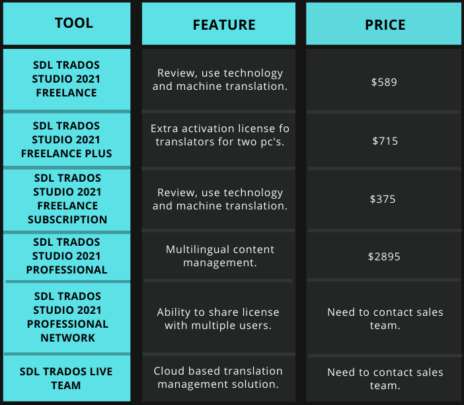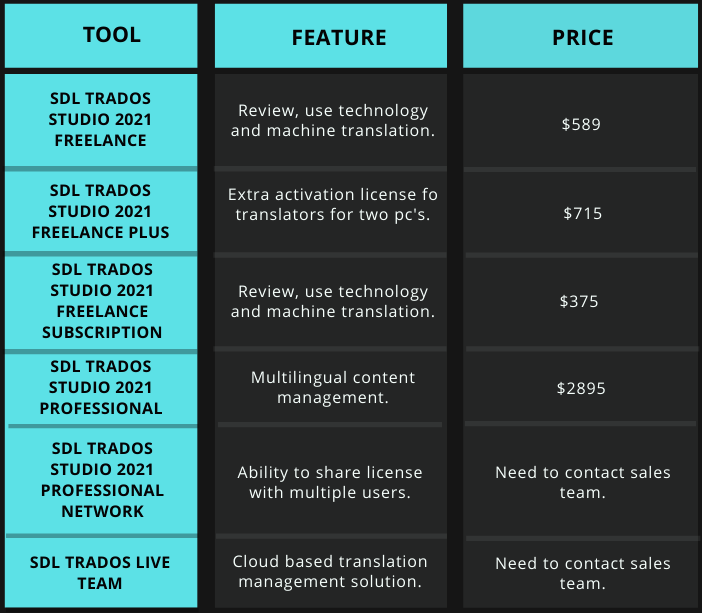 OmegaT is an open-source CAT software written in Java.
This tool has been developed specifically for professional translators.
It can be easily installed on systems with Windows, Macintosh OS X, and Linux.
Key Features:
• Supports Multiple Formats
OmegaT supports more than 30 file formats, including Microsoft Word, Excel, Power, XHTML and HTML, and Open Document Format.
• Supports Multiple Tools
The tool is compatible with other translation memory applications like TMX, TTX, TXML, XLIFF, and SDLXLIFF, making the translation process more accurate and accessible.
• Open-Source
Being open-source, it is quite accessible for everyone to use and is updated accordingly, thus providing the latest ways of making the translation process easy.
Price:
Being open-source, it is free to download and use.
Also Read: Top 11 Endpoint Security Tools
Designed by translators for translators, memoq translator pro, is the right tool for those translators who are continuously dealing with performing, editing or reviewing the translations.
It can be easily operated on systems having Microsoft windows operating system.
Key Features:
• Reuse Translations
With this tool, users can access the previously translated versions. Moreover, other features like predictive typing and suggestions make the translation job easy for users.
• Collaboration
Memoq is capable enough to receive job offers from clients that are non-memoq users.
Memoq assists users in completing jobs received from companies that use memoq as it can easily work with them.
• Memory
Users need not do multiple translations for a single task.
Translation memory of memoq is capable of storing every segment that was previously translated.
On receiving the same segment for translation, memoq presents the earlier translation as a reference.
Price:
Memoq translator pro is available for $770 per license.
BasicCAT is an open-source CAT tool.
It is quite easy to use and users can even use its code for creating any suitable CAT tool.
• Online Dictionary
Users have the benefit of using the online dictionary for translation purposes.
BasicCAT uses an online dictionary only to avoid copyright issues in offline dictionaries.
• Grammar Check
Users can quickly rectify errors or keep them to a minimum, as this tool uses language tools to assist users in keeping grammatical mistakes to a minimum.
• Selective Translation
Users can select a specific word and get it translated with machine translation and an online dictionary.
Price:
BasicCAT is an open-source tool licensed under GPLv2.
Virtaal is another open-source CAT tool.
It is a multi-format translation tool with a specific focus on software translation only.
• Best for Beginners
It is quite best for beginners as it provides tutorials and guides to users, provides quality checks, thereby alerting users, and displays previous translators' comments for reference.
• Productive
Users using this tool are faster in task completion as it is assisted by features like auto-correction for mistakes, auto-sensing of the cursor position, and much more.
• Code Standards
International acknowledged codes like ISO 639-1, ISO 639-3 are used.
Price
Being open-source it is free to use.
Fluency Now is a CAT tool that is ideal for both freelancers and organizations.
The tool is quite easy to install on platforms like Windows, Mac, or Linux.
Key Features:
• Multiple Machine Translations
Users need not struggle with multiple machine translations, as now they can have a complete look on the same through one window.
• Compliance
Keep your projects secured with HIPAA and HITECH standards.
• Auto-Updates
Users need to connect to the internet to be able to use Fluency Now. Every time a user connects to the internet, the tool auto-updates itself.
After the free trial of 15 days' ends, users need to pay $15 per month to use the services
Memsource is a cloud-based CAT tool.
Memsource, with the help of AI (Artificial Intelligence), reduces the cost of translations.
Its patented AI feature helps users drive the best out of the data for better and efficient translations.
Key Features:
• Automation
Make the translation process automated with the help of memsource.
• AI Technology
With its patented AI technology the best is derived from the data, so that it can be automatically translated quickly.
• API
Users can connect with other CMS of users and fetch the data from such CMS and automatically translate it.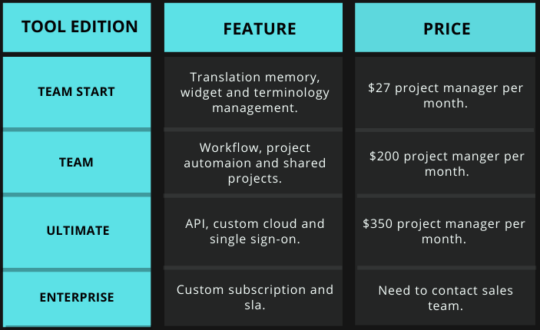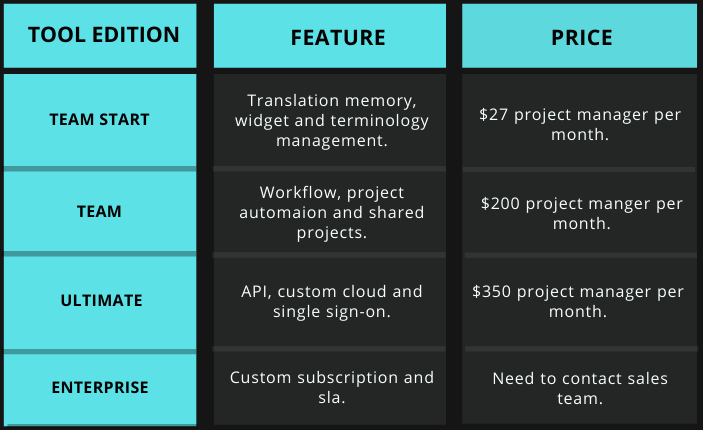 MateCat is a web-based open-source CAT tool designed for companies, translators, and SME's.
Key Features:
• Vast Translation Memory
Receive more content matches as matecat has the largest translation memory of approx. 12 billion words.
• Technical Support
Users receive quick revert on their mails for their problems.
• Simplified Project Managements
Users can simplify urgent project managements by easily splitting the rush projects as teams of various fields like translators, quality, etc., work simultaneously on the same project.
Price
Being open-source it is free to use under the LGPL license.
Wordfast Pro is a translation memory tool ideal for multi-platforms and also capable of satisfying the needs of translators and various corporations.
Key Features
• Multiple Format Support
Users can update from multiple file-formats like TTX, XLIFF,TXLF, SDLPPX (SDL Trados Package), SDLXLIFF, MQXLIFF.
• Vast Translation Memory Storage
Users can easily create multiple and unlimited numbers of TM's. Moreover, users can store up to 5,000,000 TU's per single TM.
• Glossary Storage
Users in this tool are able to store more than 1,000,000 entries per single glossary.
Users are charged $460 for this software.
Pootle is an open-source online translation tool designed specifically for translating applications.
Key Features
• Terminology
Receive suggestions for continuous translations.
• Web lookups
Users receive assistance from web pages to look for phrases as well as words for better translation.
• Globally Focused
Users can have the benefits of translating in any language being spoken worldwide.
Price
Being open-source it is completely free.
Lokalise, for translators, helps users reach quality translations with the help of machine translation, memory and glossary, and automated quality checks for better and quality translations.
Key Features

• Mobile Connectivity
Users can translate applications from lokalise through mobile too.
• Focus
Users can eliminate other information like key names and icons etc so that the focus remains on translation only.
• History
Whatever changes might have been made to any translation by any team member can be looked at and accessed as it supports translation history.
Price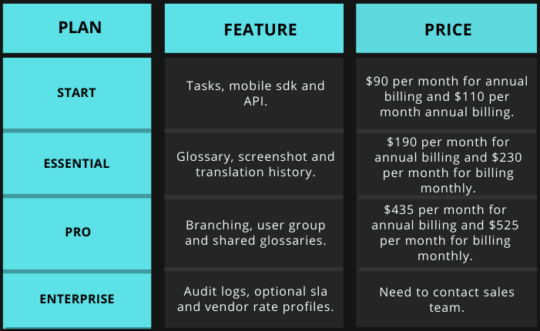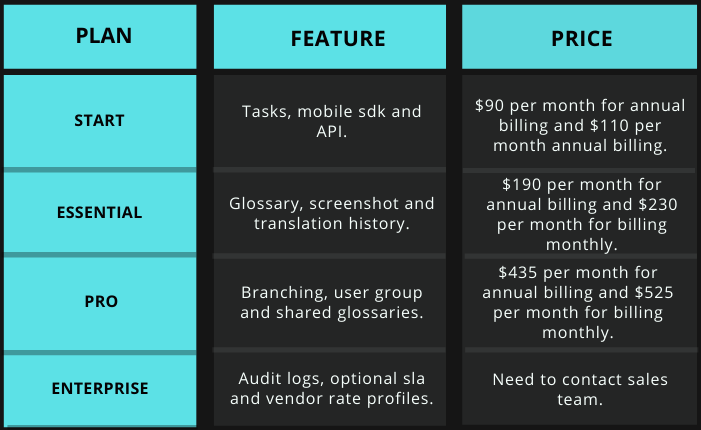 Conclusion
For translation, it is expected from the translator to deliver the best, both in terms of quality as well as efficiency. Above mentioned tools will assist you in achieving quality and quick translations.
Also Read: Top 15 Data Masking Tools – 2020