Satellite as a service is a modern-day data sharing technology with dependency on satellites. The focus is on the easy availability of the data to the business customers on a subscription basis.
The majority of the data is made available to people with the help of satellites.
But the drawback of making data available is that customers have to launch a satellite of their own attracting a handsome amount of money.
With the concept of, Satellite as a service, customers now need not invest a huge amount of money in order to acquire the information they are looking for.
Instead, now it will be based on a subscription model.
Customers would be renting out the satellites for information purposes and that too for a genuine price and time.
Satellite as a service's working model is similar to that of Uber and Airbnb in terms of renting out an entity.
To take the full advantage of the satellite as a service, a ground antenna and a data processing centre for the simplification of data is needed.
Operators will extract data from the satellites and then this acquired data will be processed further for its simplification.
After this, the data is made available to the developers so that it can be used in applications for further processes.
Amazon is leading in the construction of ground stations, built to support the successful functioning of satellite data services.
They have started working on the two out of 12 stations situated in Ohio and Oregon. These two stations will be equipped with two antennas, thus giving an option to operators to control their satellites
Some of Amazon's early customers are Capella Space, Spire, Maxar Technologies' DigitalGlobe, Myriota, D-Orbit, NSLComm, Open Cosmos and Thales Alenia Space.
It aims to lower the hurdles for using the satellite data services for the companies for whom access to ground stations still remains to be a big issue.
The company plans at charging the customers for the time and bandwidth consumed for base stations.
With these services being assisted by Amazon a lot of issues like faster weather prediction and business trends can be taken care of effectively and quickly.
Also Read: Pros and Cons of Hybrid Cloud Explained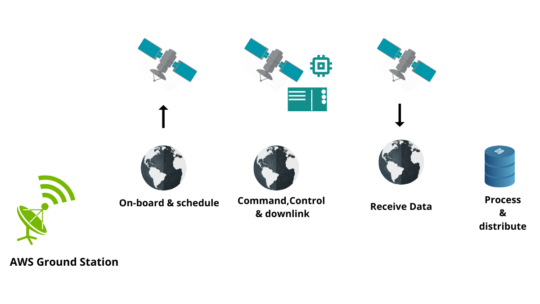 San Francisco based start-up Loft is starting to be recognized as the Amazon web service of the space.
This start-up aims at carrying the payloads for the customers who are not interested in operating their own satellites.
The start-up successfully raised $13 million for the development of a group of small satellites that will be carrying the payloads for the customers.
Its first satellite YAM-2 (YAM-Yet Another Mission) is expected to be ready for the launch by mid-2020 along with the payloads:
Internet of things telecom payload for Eutelsat.
A methane sensor for the customer orbital sidekick.
For Fugro, it will be taking the payload of satellite positioning.
For the UAE government, an imager.
For SpaceChain, a blockchain payload.
Also Read: Cloud Security Standards You Need to Ensure