OSS BSS architecture refers to operation support systems and business support systems in telecommunications. With the help of OSS/BSS telecommunications, service providers provide various functions and services. However, OSS and BSS serve different purposes in telecommunications.
OSS manages the order and network operations whereas BSS is responsible for capturing the order, maintaining customer relationships, etc. The interfaces of both OSS and BSS are scaling. As per the recent reports of Global Market Insights, we expect the growth of the market size of OSS & BSS over 15% CAGR between 2021 and 2027
What are OSS and BSS? OSS BSS Architecture explained.
What is OSS Architecture?
OSS (Operational Support Systems) is responsible for running communication networks. However, Software, hardware, integrations of systems, and business operations all come under OSS architecture.
The full form of OSS is Operational Support Systems. Operational or operations means the tasks carried out in communications services. However, these tasks mainly get the services and networks running and complete the technical and infrastructure tasks required for communications.
Support means the help required to execute the operational tasks. For instance, Providing automation to tasks, improving the network and services, and increasing the speed of execution of the operational tasks. Etc.
Systems mean the infrastructure required for telecommunication network services. For instance, an Organization uses various software to perform the OSS tasks. They install this software on a system, server, or cloud.
Features of OSS
It has a fault management system.
Provides Overlay networking.
Service request management.
Network Configuration is done by OSS.
It has prepaid and postpaid systems.
OSS has its own database management system.
OSS Architecture
The OSS architecture consists of various sections. They are as follows.
Network Engineering
Communication networks work with the help of some devices. With proper configurations of these devices, we can enable the network to provide efficient services and carry traffic from one place to another.
But there are two challenges that network engineering faces. The first challenge is that these devices are complex and mostly use interfaces and configurations of their own. Besides this, the devices can be installed anywhere. It can be installed in the basement of your office or on customers' premises or on some roadside cabinet.
The role of network engineering is to enable connections to the network and perform tasks on devices. On the other hand, it is also responsible for monitoring the network configurations and the devices and simplifying the tasks for better performance.
Data & Analytics
Data is very important when it comes to OSS architecture. There are various data management processes that can handle sets of data generated from the examined devices and services.
We have to collect data about the devices, networks, as well as customers. In other words, gathering this data is essential for the OSS process. Organizations store this data in a database which is also known as the inventory.
The main benefit of storing the data is that it saves time finding the answers to the questions.
Planning
The OSS can face many challenges like issues in the performance of services and the growth of traffic. Strategic Planning is required to increase the growth in customer traffic. Similarly, Tactical planning is required to resolve service-related issues.
If a new technology is available that can increase the tasks' performance, then we have to plan to roll out the new application.
Service Fulfilment
Delivering services to customers is a very complex task. Therefore fulfilling customer service is important. Service Fulfilment takes orders from the BSS layer ensuring that these orders are successfully deployed into the network.
Customer experience
Positive customer experience is important for the CSP. the working of OSS/BSS in a timely manner is important for a good start. The main focus is to improve customer experience by improving the quality of the network and services.
What is BSS?
BSS stands for Business Support Systems. It describes the business or customer-facing issues in functionalities. For instance, there are various BSS tools that can help improve customer experience by creating new offers and generating bills. We also use BSS to communicate between various networks.
This Software tool is generally used to manage all business activities by organizing them. However, together OSS and BSS can generate an efficient and reliable network service for the customers.
Features of BSS
It manages the orders of the customers.
Supports Product Management.
It monitors the Subscription model and manages it.
It has its own Billing system.
Limitations of OSS BSS Architecture
As we have seen OSS/BSS can integrate and work together to improve customer experience using the network to communicate. However, there are some common issues in OSS and BSS architecture. Some of them are as follows.
Point to Point integration
Multiple external systems integrate with OSS/BSS architecture. For instance, when CSR modifies the data in the CRM system these changes need to be automatically updated into the billing system. The organization will require various interfaces to establish the connection with these external systems. This process is time-consuming and can reduce integration complexity.
Tightly Coupled
OSS and BSS use tightly coupled applications. Therefore, if we change the business environment, then we have to rebuild the application. These architecture are not flexible. Therefore adapting to any changes in the business environment will consume time and affect the performance of the system.
Integration with external system
As we have seen OSS/BSS works with some of the external systems. In addition, this external system comes with its own traditional interfaces and has its own datasets. Therefore, it is a complex process to integrate with external systems. It will require high development effort to rebuild the application to integrate with the external system and we will also require some database management tools to convert information according to the datasets.
Complex Transaction Management
Let's assume a customer creates a new account in the system. End-user performs this as a single transaction. But this change must be updated in multiple systems like the newly created account must be updated in the billing system, CRM, and LDAP system.
Difference between OSS BSS Architecture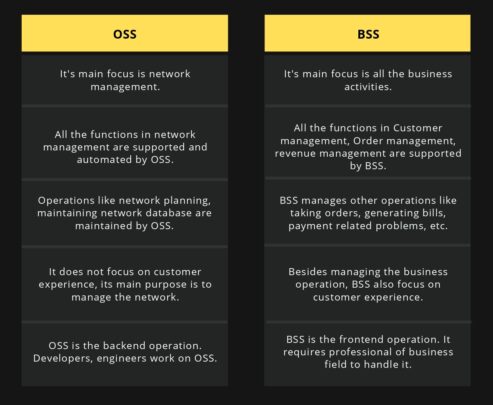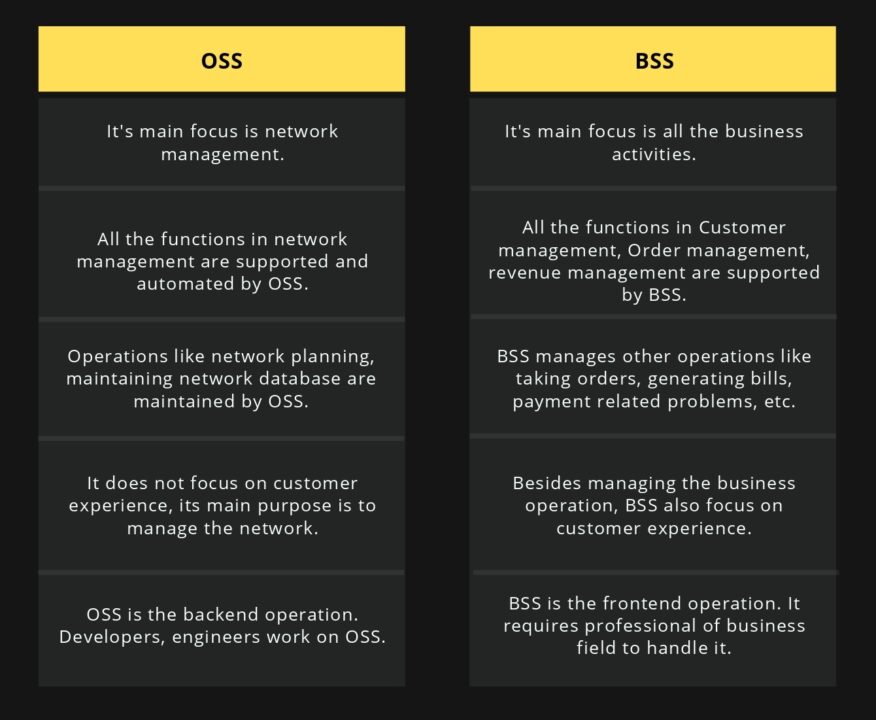 Conclusion
OSS and BSS together can run the communications services efficiently. Telco uses OSS to monitor and analyze the technical functionalities. However, BSS ensures customer experience and performs business operations.
Both these architectures have their own datasets and services that ensure that the customers fulfill their network requirements.
Read More:
Small Business, Big Impact: The Rise of Extended Reality in SMB Corporations