It is the data that drives the businesses.
Managing it and getting the best out of it is of great importance in any organization.
Collibra and Alation are two such platforms helping in removing the barriers for managing data efficiently.
Collibra is a data intelligence company providing solutions for data management through products like data catalog, data governance, and data lineage.
Alation is a platform providing solutions like data catalog and data governance solutions, thus helping the organization derive the best out of the available data.
Exploring the Difference Between Collibra and Alation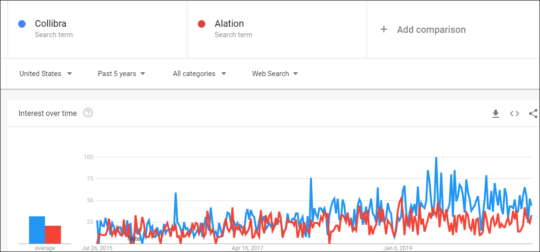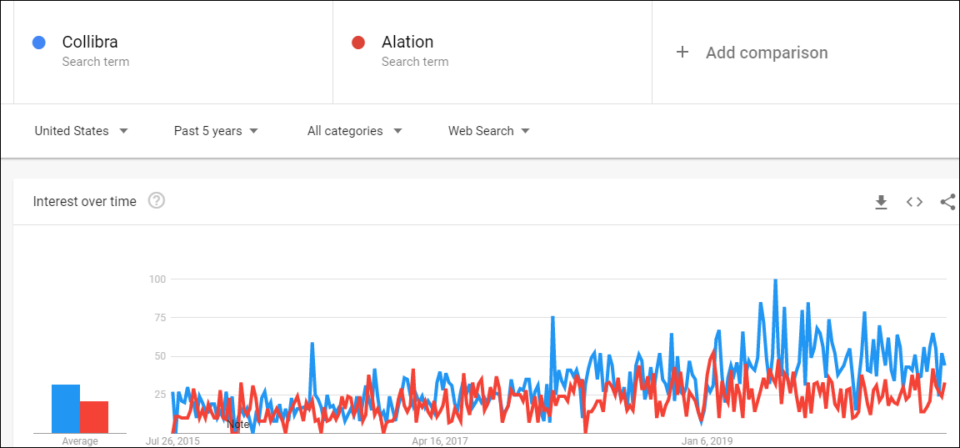 From the search result trends of the past five years, Collibra seems to be slightly more popular than Alation.
Key benefits of Collibra include:
A better platform for innovation: Because of the APIs and graph metadata analyst technology, Collibra's platform enables users with extensions across used cases for speedy innovations.
Facilitates Collaboration: Because of Collibra's user intuitive user interface and flexible operating model that can be used for business needs through customizations, it quite easily supports the idea of collaborations.
Data Security: With standards like SAML single sign-on, role-based accesses users can protect their data without being concerned about any security lapses.
Below mentioned are some of the key benefits of Alation
Real-time updates: Keeps you constantly updated about the changes in any data sets.
Relevant data: Makes users utilize the data in the best ways by assisting them in its usage and its implementations.
Flexible deployment: Users can deploy Alation solutions either on the cloud or on-premise to meet business needs.
Also Read: Data Mining Clustering vs. Classification: What's the Difference?
Below mentioned are some of the disadvantages of Collibra:
Data Valuation: Users have reviewed Collibra quite poorly in terms of the applied data valuation. Data valuation remains the focus area in Collibra.
Technical support: The majority of the time users don't find the technical support quite satisfactory whenever they request.
Licensing: Because of its complex licensing model Collibra might find itself difficult to reach the majority of the customers.
Some of the drawbacks of Alation include:
Licensing: Licensing has been limited to individuals only whereas group licensing still remains an issue in Alation.
Metadata Scaling: Users have complained about managing implementation when looking for enterprise expansion. However the same is being taken care of by sharing progressive information through online customer communities.
Data Lineage: Some users still find difficulty in Alation's latest feature that is a column to column lineage. Users still have to go for developing internal APIs to use this new feature. They expect it to be more automated.
Below is the review from AXA XL for Collibra.
AXA XL wanted to enhance its data transparency among business users.
Data governance is strongly supported in AXA XL.
Chief Data Officer is responsible for data strategy as well as transparency.
This transparency is maintained through data governance centers of excellence.
The approach of these centers is from bottom to top, which includes involvements from business users too.
AXA XL decided in March 2018 to support its data transparency procedure by opting for Collibra's cloud-based data governance products.
Stakeholders opted for business glory to better understand the glossary being used in data.
Rather than passing the data through three pillars like data quality, data catalog, and data governance center, the latter is now only used for giving a single view of data transparency.
Now the business users have to visit the dashboard to access a page in Collibra that provides the complete information about specific data in that document.
Business users were able to explore below-mentioned information too:
Definition of business terms.
Reference data in the report.
Data quality score.
Understanding data privacy levels.
Below discussed is the review from Nebraska Furniture Mart for Alation.
Nebraska is the largest home furnishing store in North America.
Nebraska Furniture Mart wanted to invest in a more structured data wherein they would have delivered their services efficiently and in better ways.
NFM's different departments were using different definitions for customers.
NFM needed a solution providing it better visibility into the data. It also wanted to have data literacy and cross-organization access to data.
Following were the actions taken:
Alation's collaborating functions allowed NFM to share knowledge across other business units.
Alation's open APIs allowed it to integrate it with existing ERP of NFM to build field level linage, which would be more understandable.
Enabled self-service access to data in the form of context for better understanding.
Creating a data literate organization by breaking down silos across business.
NFM was able to show field level lineage.
Provided more accurate customer analysis.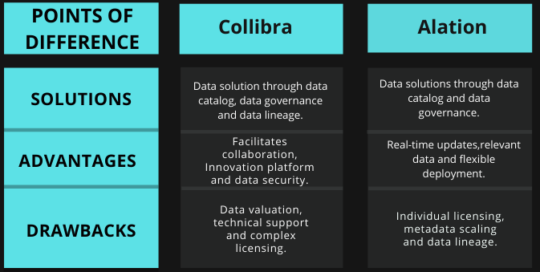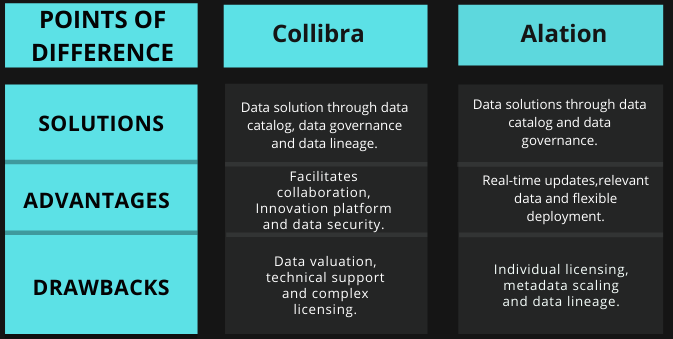 Conclusion
Both Collibra and Alation provide the platforms for efficient management of the data and are competent in their capacities. However, they can be better through the benefits they bring in the growth of the companies using them.
Also Read: 4 Best Practices For Data Mapping