Managing all websites and applications with the same password is a hazardous practice. If unluckily, a hacker gets their hands on this password during a data leak from one site, they will be able to access your accounts on all the others.
Under these circumstances, the slightest act of piracy can be a real disaster.
Therefore, the most suitable solution is to use a distinctive complex password for each of your accounts.
However, it is almost impossible to remember so many combinations of alphabets and numbers. This is the reason why it is better to use a password manager.
In this article, we'll compare & address the difference between Norton Password Manager and LastPass, two of the most popular options, so that you can opt for the solution most suited to your needs.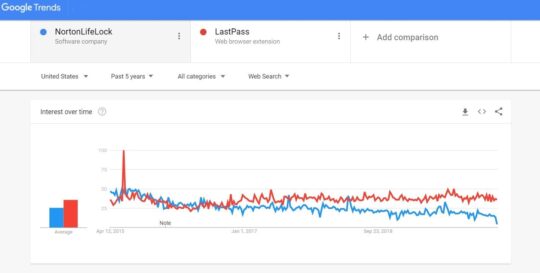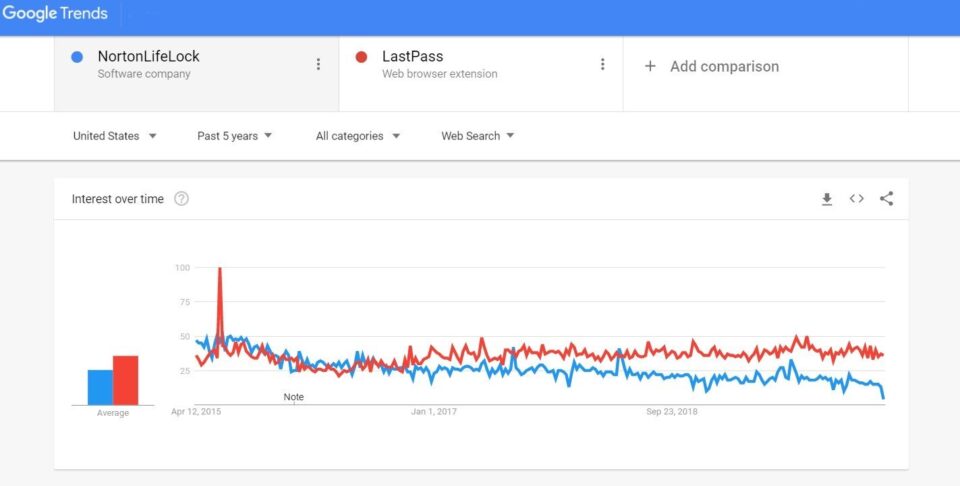 From the above, it can be evaluated that LastPass is stepping ahead in comparison to Norton Password Manager in terms of customer preferences.
With over 4 million downloads from the chrome store and over 1 million android apps installed, Norton Password Manager has already enjoyed some popularity.
It comes up against the giants of the sector with a tailor-made solution. This tool creates extremely complex keywords that are difficult to decode or guess.
More than creating complex passwords and keeping them in a 100% secure environment, Norton Identify Safe goes further when it comes to security. It even alerts you if the websites you access are not safe and blocks them.
Pros
Actionable password strength report
Norton Safe Web rates website safety
Generic exploit blocking
Synchronization of passwords over all your iOS, Windows & Android devices
Automated change of password
Web browser security
Cons
Doesn't have macOS support
Form fill feature has limitations to it
No two-factor authentication
No secure password sharing
Pricing: Starting from $22.99/year
Also Read: Pros & Cons of Password Managers
LastPass ensures to simplify your life. It includes an integrated username and password generator that assists you in creating highly secure login credentials for all your accounts quickly. You get all the security privileges of impenetrable passwords, without the difficulty of having to memorize them.
Your privacy is assured, as even LastPass cannot access your master password or encryption keys. All your data is encrypted and decrypted on the device itself.
Its autocomplete feature will not only fill in your passwords on the accounts, but it can also fill in data such as payment information during your online purchases. It offers 256-bit AES encryption with systematic PBKDF2 iterations.
Pros
Quick and light installation on any device
Import of passwords saved in web browsers
Possibility of online & offline safe access
Automatic connection and auto-filling of forms
The integrated password generation tool
Two-factor authentication
Cons
Obligation to create a LastPass account
Synchronization is only available for a Premium plan billed at $36/year
Web password storage only
Few components are out of date & no new interface
Pricing: Starting from $36.00/year
Norton Password Manager Reviews
After going through the reviews we came to know that majority of people like the overall security and protection Norton provides & updates are automatic.
It is through Norton user can block pages that are not suitable or shows vulnerabilities. If someone tries to access your account it notifies you of vulnerabilities.
On the contrary, on many occasions, it is difficult to identify and detect vulnerabilities. In order to be fully protected, it is necessary for users to perform scans repeatedly in order to detect them.
LastPass Reviews
One of the things users like about Lastpass is the simple and intuitive operation it offers. According to the reviews, the implementation of the application in different environments is very easy.
In addition, people can easily generate multiple passwords, which makes their work easier and more comfortable in the long term.
On the contrary, the majority of users suggested that LastPass could use a UI refresh to make their visuals seem a little more modern. Sometimes the work of this application will slow down & that it needs bug fixes.
---
You may also like to read: How to Recognize and Prevent Phishing Attempts