Nowadays, almost everything is automated, and most IT firms use different automation technologies to get their job done. Gartner expects the automation software revenue will reach approx. $2 billion in 2021, a surge of 19.5% from last year.
UiPath and Selenium are two distinct parts of the new age of automation, and they perform tasks that are distinct and yet related to one another.
In broad terms, UiPath is one of the widespread GUI-based Robotic Process Automation (RPA) tool. It provides solutions for application integration and automation, administrative and business proceedings.
In contrast, Selenium is also a well-known tool available open-source and used for testing web applications or websites.
In this comparison of UiPath and Selenium blog, I will give you a brief idea of how these two automation tools differ from one another.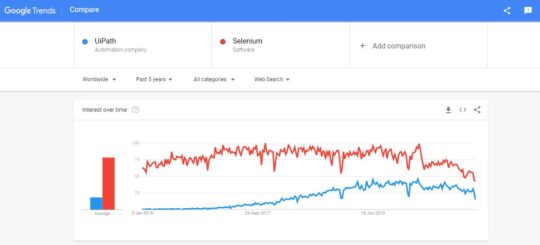 From the above Google Trends screenshot, it is evaluated that though Selenium is ahead in comparison to UiPath, the latter is picking up on the trend in terms of customer interests.
In simple terms, UiPath is a Robotic Process Automation tool that is used for Windows desktop automation. It is a tool used for automating repetitive/redundant tasks and eliminates human error.
The tool is easy to use and has a drag & drop functionality for various tasks. UiPath offers many software editions to support different users' needs, e.g., a student will go for the Community edition while a professional will buy an Enterprise edition of the software. It also comes with an active online community and forums to resolve any problem.
According to Deloitte's Technology Fast 500, UiPath Ranks No. 1 in the USA in 2019. It is incorporated by many MNCs like Airbus, NASA, Autodesk, DHL, HP, etc.
UiPath is easy to use, scalable, and a freemium tool. The company has created a revolution in RPA communities. According to UiPath, their client-base includes almost 50 percent of the Fortune 500 and eight Fortune 10 companies.
In short, Selenium is used as a software testing tool and it automates web-based applications.
One of the Selenium features is that it encompasses manually written test cases and multiple software into a single tool.
Selenium has its own programming language called Selenese. Apart from that, the test-cases are written in a handful of programming languages such as Java, Python, Ruby, etc.
Also, Selenium supports cross-browser testing, which implements the test-cases quickly across various browsers like Chrome, Firefox, Safari, etc., multiple times.
Also Discover: What is the Role of RPA in IT?
In terms of Automation, UiPath with the help of bots is one of the many tools of RPA that is used for automating business processes like queries, transactions, processing of heavy-automated devices like a robotic arm in a car manufacturing plant.
In contrast, Selenium conducts testing of web-applications and browsers.
In terms of coding knowledge, little to none is required for UiPath, But one needs to know the Java programming language for creating test-cases in Selenium.
UiPath is a freemium tool that provides freshers and learners with a free community edition with all the essential features.
Still, if one wants to avail of the premium features, they have to buy the Business edition, licensed. Selenium is a free & open-source software forever.
The strength of UiPath is maintaining a large amount of data and simplifying a would-be complex and tedious process. On the other hand, Selenium will complete simple tasks such as writing and passing test-cases.
In the comparison of UiPath and Selenium there are a few similarities that are:
They are used for the automation of tasks.
Repetitive, boring, and tedious tasks can be made more efficient.
Both of them follow the Rule-based process.
Both are data-driven in production.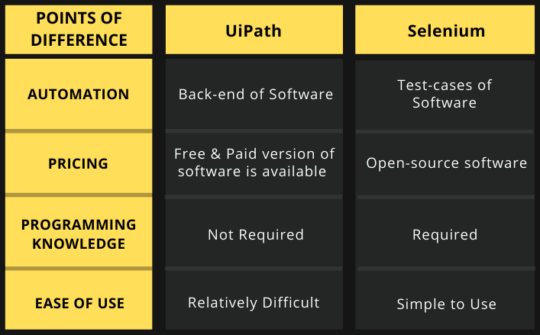 Conclusion
We can conclude that automation is here to stay and there will be many more tasks that will be automated, from the simplest to the most complex ones.
Testing tools are widely used in the IT industry, many people from fresher level to professional level use it; hence they need to be efficient, cost as well as performance-wise and for that reason, Selenium was created.
Whereas UiPath was created to cater to the robotic and heavy-industries demands, like having full-scale robotic arms in factories that were workforce-dominated in the early days.
We might even unknowingly automated so many processes and after comparing UiPath and Selenium, the combination of the two will prove to be beneficial for all.
---
You may also like to read: What is the Difference Between RPA & RDA?