As technology is evolving, so are the methods of executing tasks. Robotics has played an important role in making tasks easier for humans.
The difference between robotics process automation (RPA) and robotic desktop automation (RDA) can only be better explained on the basis of their scopes.
RPA vs. RDA: In-Depth Comparison
Robotic process automation means the use of software tools combined with the knowledge of artificial intelligence and machine learning that are aimed at automating repeatable tasks or business processes.
Robotic desktop automation is usually for a single user.
In simple words, it can be said that it is the process of scaling down the robotic process automation for a single user.
It is installed on one machine and it helps in easing the day-to-day manual tasks.
Some of the features of RPA are described below:
No Use of Coding: RPA tools like UiPath, Robot Framework, AutomationEdge, and TagUI allows users to create automation procedures with just merely forming flowcharts.
Because of these tools dependency on codes is not there. A business operational personal with just a knowledge of operations can be trained on a particular software to create the automation process for a certain task.
Security: Since an organization using automation might be having multiple departments, it's obvious that many people will demand access to automation.RPA has thus introduced role-based permissions to tackle security threats.
Dynamic: The best thing about RPA is that it can adjust itself dynamically in a running process.
It won't stop an ongoing process and then adjust according to the process.
Key features of RDA are as follows:
Workflow Design Tool: This feature in RDA helps users to have an understanding of the overall process in the visual format. Therefore, this feature remains to be one of the most needed in RAD applications.
Drag and Drop for Workflow Process: Another feature of RAD application should be that it provides the users with drag and drop options of workflows.
A successful RDA gives users the option of creating a workflow wherein a user should be able to create an application by simply going for the record button on the workspace recorder wizard.
Presence of Wizards: Wizards are a part of programs guiding users through certain steps. The presence of Wizards in RDA tools is needed for common activities like recording user actions, extraction of texts and web service data exchanges, which are commonly faced by users.
Some key features of RPA include:
Maximum Usage of Resources: The best thing about RPA is that it makes sure there is optimum utilization of resources. Humans often take tasks with less interest often succumbing to boredom.RPA are assigned the tasks of humans, that they are capable of ending in a suitable time.
Cost Reduction: RPA reduces the cost, as it eliminates the scope of more human hirings which would often burden the organizations with extra costs. Moreover, RPA is very specific in its tasks because of which it also eliminates the threat of resource wastages.
No Threat to IT teams: Being dynamic in nature, RPA goes well along with an on-going process.
Key features of RDA include:
Improves Customer Experience: Because of RDA, employees are able to solve the queries of customers quickly as software robots complete tasks, quick and on-demand.
Compliance: RDA tools when applied to business processes are made sure that they are 100% compliant with business rules.
Multiple Record Handling: RDA tools have the ability to quickly go through multiple records in order to deliver better results.
Also Read: Where does RPA stand in Comparison to AI?
R1 is a leading provider of technology-enabled RCM services for hospitals.
R1 was facing issues related to routine tasks wherein they had to be dependent on each client's IT resources for the implementation of additional scripts.
R1 used Automation Anywhere because of its ability to run on different platforms. R1 made sure that high-quality software engineering standards were applied to the RPA program.
This thus enabled the R1 to manage a vast amount of transactions that were performed by them on behalf of clients.
The result was that they were able to automate 15 million-plus tasks. These processes include insurance claims and other procedures before authorization.
RDA was able to provide solutions for the world's largest home furnishing retailers, which was operational in 43 countries.
Its order entry and automatic delivery systems had become pain issues.
After partnering with NICE they realized that through desktop automation, they were able to deliver callouts to the agent's screen, wherein they were able to fetch information related to the open delivery slots.
The result of the same was that they were able to save a lot of time and improved their accuracy.
Some of the RPA providing companies are mentioned below:
Argos Labs
Softomotive
AntWorks
Companies providing RDA solutions are:
Pega
Almato
WinAutomation
Both RPA and RDA are basically related. Both are part of intelligent automation.
RDA requires human intervention in order to execute a process whereas RPA is applied to have minimum human supervision in the overall process.
Since the main goal of opting for automation is to have a minimum dependency on human supervision in workflow processes, RPA thus takes a leads here.
RPA Vs RDA: Which is More Popular?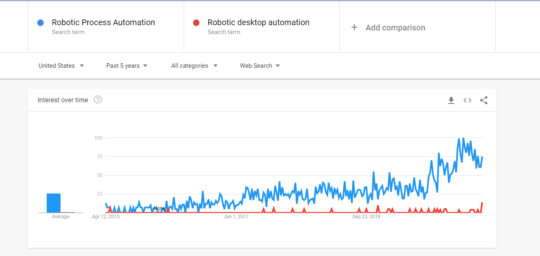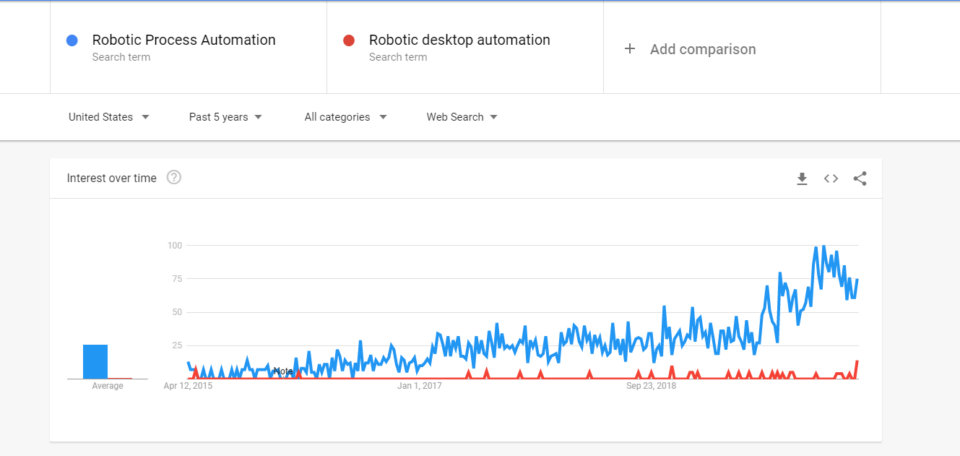 As per Google Trends comparison, it is quite clear that RPA is hands down a more popular choice among the users. But then it goes without saying that it totally depends on your needs as to which solution you should opt for.
Also Read: RPA vs. BPM: Which One is Better?