Scrum methodology provides specific details of how everything is to be done on a project.
It is usually applied in the development of complex products.
With the application of scrum methodology, an organization can drive better results as well as productivity.
It is ideally accepted and is designed for teams where the work is divided within goals that are to be completed within time limits.
The basic idea behind the adoption of scrum methodology is to provide transparency in communication and collective responsibility.
Let us understand the basic difference between Agile methodology and Scrum methodology.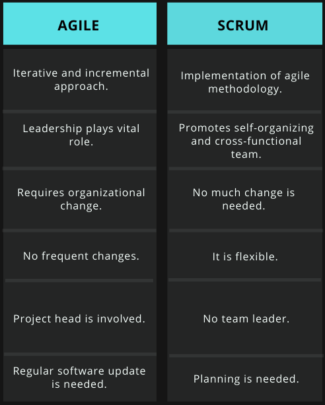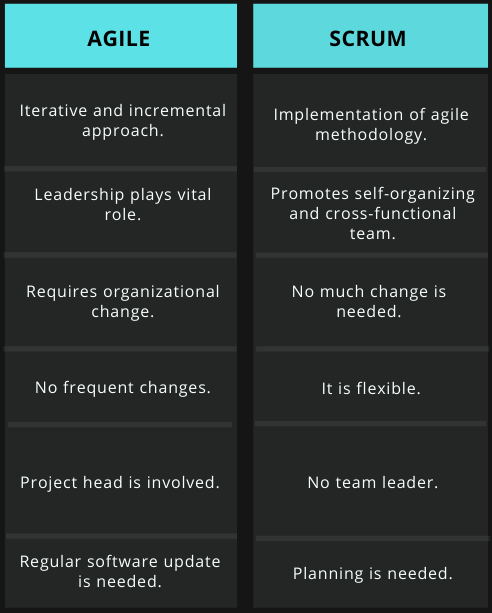 Some of the key advantages of adopting scrum methodology are described as under:
The process of implementation of scrum methodology is easier to explain as well as to understand.
Its framework is quite concise and straightforward.
This methodology focus on delivering the best to the customers.
This is mainly done with the help of regular feedback during each sprint.
This methodology being retroactive constantly supports feedback from people about the success as well as a failure of methodology.
With the outcome of results, adaptation becomes easier for any organization.
Also Read: Agile v/s Scrum? Things you need to know
Software's often are equipped with many features, but only some of them are ever used.
Scrum focuses on prioritizing features mostly to be used.
Thus the focus is kept only on the features that are on priority for customers.
The best thing about scrum methodology is that it promotes transparency.
Even if there is a slight change in any process, that too is kept visible to everyone.
The only additional requirement that a team might need to share such information transparently would be tools.
Scrum methodology is focused on rectifying errors as it promotes transparency at every step and promotes regular feedback from customers.
Even if there are certain developments that might not be included or are not needed in the project, such changes can easily be amended at any stage.
Scrum methodology ensures optimum results with faster results and simple testing procedures.
Shorter sprints allow changes quickly based on customer feedback.
Since this methodology results are derived much quickly, revenue and other targeted benefits start coming in sooner.
Scrum methods and scrum teams ensure a happy customer base as teams keep them engaged and involved through projects.
Some of the limitations of scrum methodology are discussed as under:
Regular meetings though, are necessary for optimum performance but could often prove frustrating for employees.
The Success of projects remains at risk if any team member is not present or does not execute its job correctly.
The dates for the delivery of the products and the time limit on sprint do not apply to scrum.
It won't be easy for most staff working through traditional methods to adapt to a new scrum methodology. They might face difficulty in adjusting to the scrum technique.
The Absence of regular tests and checks could severely affect the performance of the project.
Scrum methodology is ideal for six to nine members, but if the team size is increased the desired results can't be achieved.
Training is an important part of any implementation. The majority of the time, scrum methodology won't show results.
This might happen because the team is not properly trained for the same.
The Absence of training may cause a lot of hindrance in scrums execution.
With no time limit for the deliverance of products, it often results in scope creep.
Teams face a lot of pressure as they might have to spend a lot of time in project management.
Scrum methodology can only be implemented successfully in the presence of experienced team members.
Absence of which can create issues.
Conclusion
Scrum methodology will assist organizations in achieving better results, but the teams associated with it need to be provided with proper training. With the right training, teams will be able to implement scrum methodology in their daily work process.
Also Read: Rapid Application Development vs. Agile: Comparison of Two